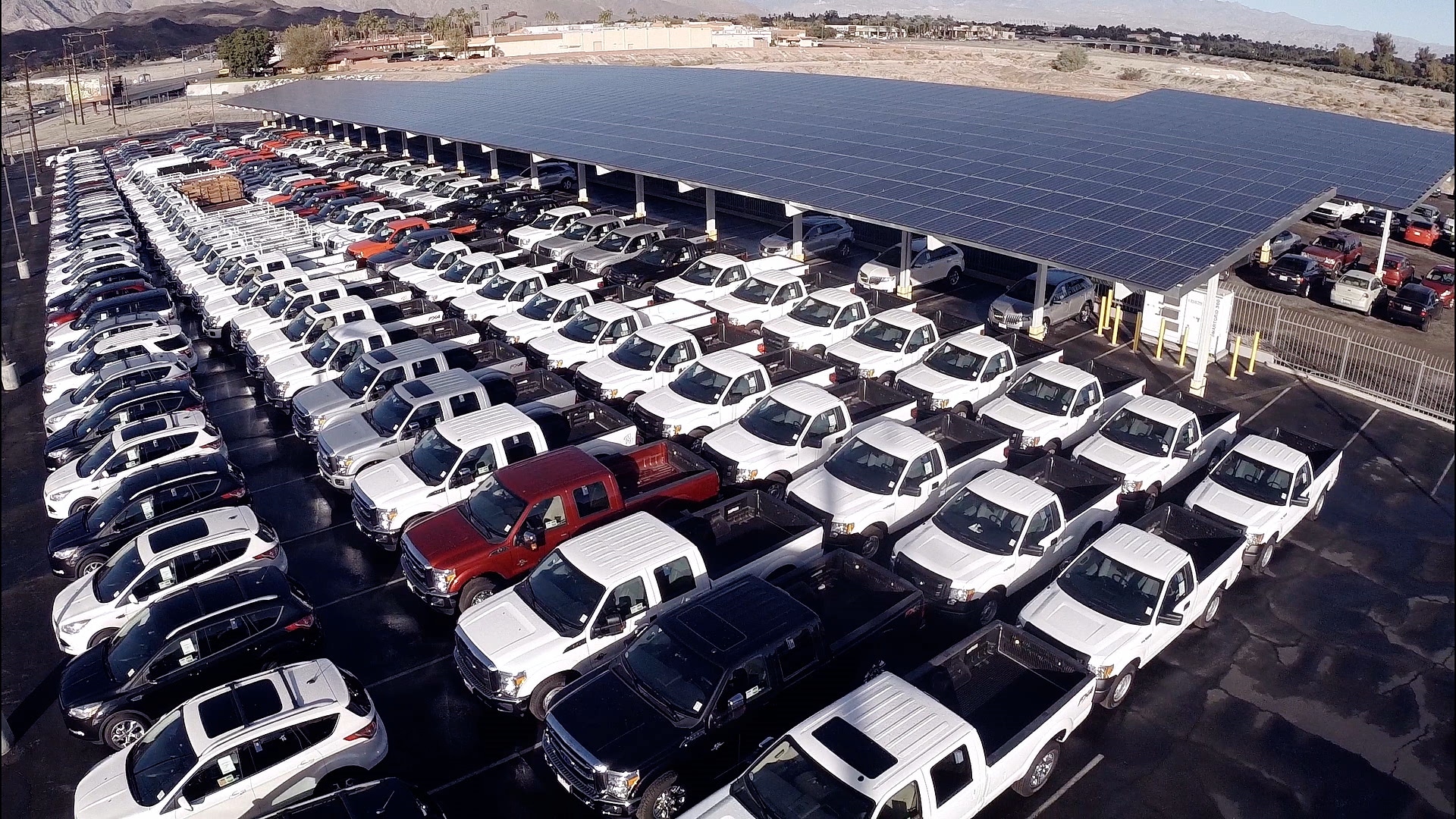 Palm Springs Motors - Save Green by Going Green in the Coachella Valley
Palm Springs Motors has been a pioneer auto dealer in the implementation of environmentally friendly processes and technologies.
The dealership operates a solar plant that generates over 1 million kilo watt hours of electricity annually. A few years ago the dealership replaced all outdoor light fixtures with Metal Halide fixtures which saved 498,000 Kwh annually. Today with the advent of additional savings available through the use of LED technology the dealership has replaced these same fixtures for an additional annual savings of 108,000 KWh 
In addition to the above, in a recent remodel the dealership replaced all landscape, showroom, service department and exterior building lighting which resulted in reducing electrical use by more than 494,000 kilo watt hours annually.
In total the solar and lighting upgrades reduces this dealerships reliance on the electrical grid by 2,100,000 kilo watt hours annually, obviously a huge relief from the power company's use of fossil fuels to generate power.
All A/C units have been upgraded to the most efficient ones available, which also saves considerable electricity not included in above totals.
As a point of reference, per SCE the average Palm Springs household uses 779 Kwh per month.
Additionally, the dealership has converted its entire landscape to desert landscape and artificial turf. Obviously the areas covered with artificial turf have a 100% water use reduction. The areas converted to desert landscaping have a reduction exceeding 75%. The savings are hundreds of thousands of potable water!
Palm Springs Motors provides employees with free charging stations for their plug in hybrid and electrical vehicles and also provides free charging stations to the general public.
The dealership uses plug in hybrids for its service shuttles as well which minimizes the use of gasoline.
Going Green by the Numbers…
2,100,000
Number of annual kilo watt hours reduced with solar and lighting upgrades.
1,000,000
Number of annual kilo watt hours the dealership solar plant generates.
606,000
Amount of kilo watt hours saved annually by replacing outdoor light fixtures with Metal Halide fixtures.
100
The percentage of water reduction by converting most of the dealership landscape to artificial turf. 
Hours
Monday

9am-7pm

Tuesday

9am-7pm

Wednesday

9am-7pm

Thursday

9am-7pm

Friday

9am-7pm

Saturday

9am-7pm

Sunday

11am-6pm
Make an Inquiry